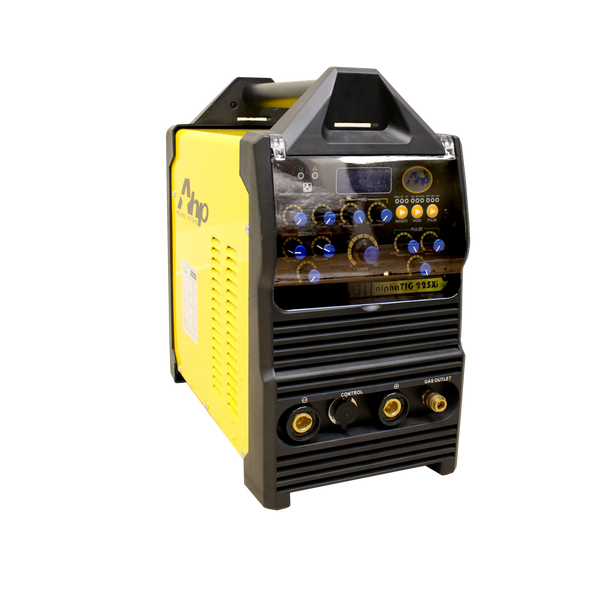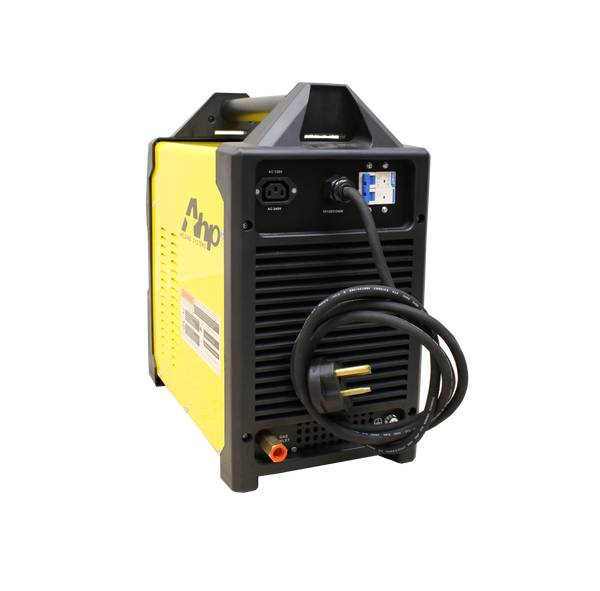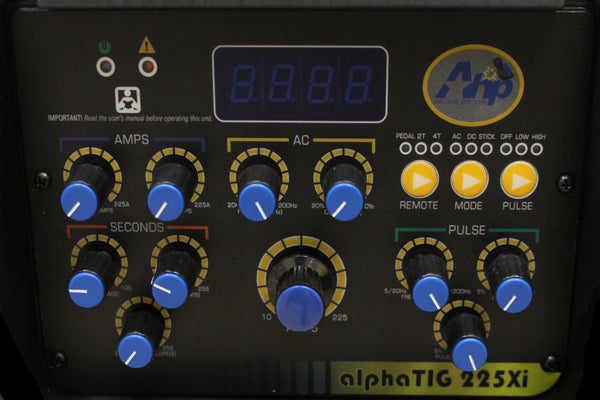 Description:
The AlphaTIG 225Xi is a modern AC/DC TIG/Stick welder with a modular IGBT inverter design that is digitally controlled for top performance. Designed to be versatile, this TIG welder is built to meet the daily needs of  most medium sized fabrication or repair shops.  It features dual voltage 120V/240V input capability for go-anywhere performance with up to 150A output while operating on 120V.  Fully adjustable pulse adds to the theme of versatility with a pulse frequency range in TIG mode up to a respectable 200Hz in both AC and DC modes.  While the unit is designed for the professional welder, the welder is also well within the scope of a beginner welder, with an easy to use interface, and a low entry price when compared to the competition.  
Whether professional or novice, this unit features a 3 year, parts and labor warranty.
Features
Digitally controlled functions and features
Internal modular board design
Water Cooler Power Outlet on Rear Panel
Powerful 225A AC/DC TIG welder (240V)
Stick weld with up to 5/32" Stick electrodes with output up to 185A (240V)
Adjustable AC TIG and Stick Frequency 
Excellent stable arc while welding
High Frequency start only

150A output operating on 120v input in TIG mode, (125A in Stick mode) 
35% duty cycle @ 225A in TIG mode operating on 240V (60% @ 200A, 240V)
Pulse frequency 0.5 to 200Hz
2T/4T function
What's in the Box:
Alpha TIG 225Xi
Nova 26 TIG Torch (12.5ft, 35-70 DINSE Connection, 9mm Quick Connect and a Torch Switch for 2T/4T operation)

250A Stick Electrode Holder (9ft)
Work Clamp (6ft)
Nova Foot Pedal (25 ft. Cord)
Floating Ball Type Billet Brass Argon Regulator
240V to 120v Plug Adapter (NEMA 6-50R to NEMA 15-5P)
Basic Consumable Kit (does not include tungsten)
Specs:
Processes :
AC and DC TIG with pulse in AC and in DC, AC and DC Stick
Rated Electrical Input: 120/ 240v 50/60 Hz
Minimum Amp Start On DC/AC: 10A/20A
TIG(GTAW) Duty Cycle (240V): 225A/19V @ 35% Duty Cycle
TIG/Stick Open Circuit Voltage (OCV): 75V
STICK (SMAW) Duty Cycle (240V): 185 A, 27.4 V @ 35% Duty Cycle @ 40° C
MAX Inrush Amps:  120V: 35A, 240V: 31A

Effective Rated Amps: 120V: 24A, 240V: 23A
Foot Pedal: Nova long life, 25 ft. cable
TIG Start type:
High Frequency Start (non live trigger/pedal actuated)
2T/4T Torch Trigger Panel Control Sequencer: Yes
Start Amps(2t/4t Trigger Function):
 5
(20)-225A
End Amps(2t/4t Trigger Function):
 5
(20)-225A
Pre Flow Time for Gas:
0-10 Seconds
Post Flow Time for Gas: 0-25 Seconds
Down Slope Time (Ramp Down):
0-10 Seconds
AC Balance Control:
 1
0-90% of Electrode Positive
AC Frequency Control:
20-200 Hz
Pulse Frequency Range:
.5-200Hz (AC or DC)
Pulse Amp Control: 5-95% of Welding Amps
Pulse Time ON/ Pulse Width Ratio:
 5
-95% of Pulse Amps
Weight:
 5
0 lb
Dimensions:
22 in × 9.25 in × 24 in
Min/Maximum Capability
Ratings are based off of industry "best practice" standards for single pass. Maximum multi-pass is based off of practical limits given maximum machine amperage and duty cycle.
TIG:
Minimum DC: .015"
Minimum AC: .025"
Maximum AC 120V: 1/8"
Maximum DC 120V: 3/16"
Maximum AC 240V: 5/16"
Maximum DC 250V: 3/8"
Maximum AC multi-pass: 1/2"
Maximum DC multi-pass: 5/8"
Stick:
This unit is not designed to weld with E6010.
120V: 1/16" to 3/32" Electrode
240V: 1/16" to 5/32" Electrode
User Manual/Brochure
Download the AlphaTIG 225Xi User Manual
Additional Information/Notes
This unit is not designed or intended to weld with E6010. The arc will not be stable.  Consider using E6011 in place of E6010.
Generator Requirements
This unit must be operated with generators that are rated by the manufacturer's as "Clean power".  Clean power is defined as 5% or less Total Harmonic Distortion (THD). 
The minimum required wattage for operation with this unit is 9000 Surge Watts.
Operation with generators that are not clean power rated or that do not meet the wattage requirements will void the warranty.