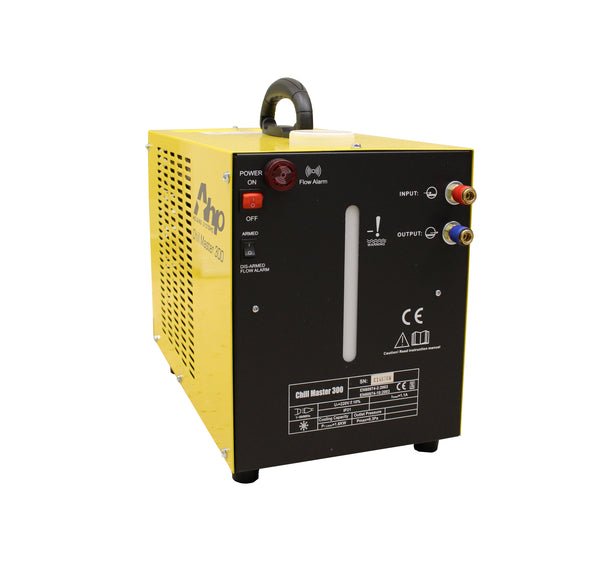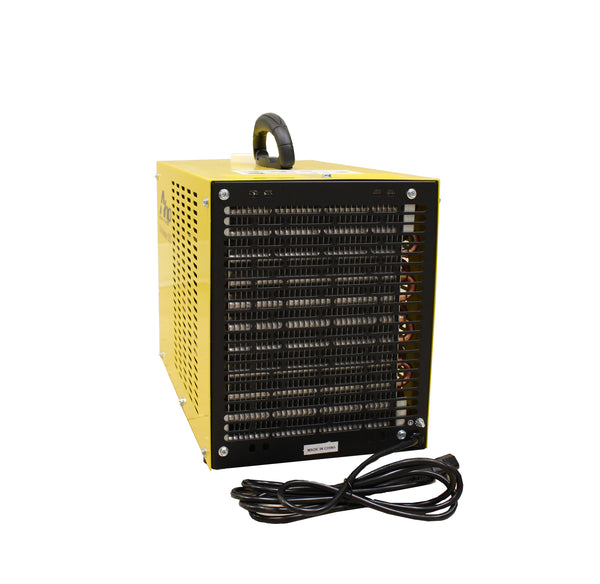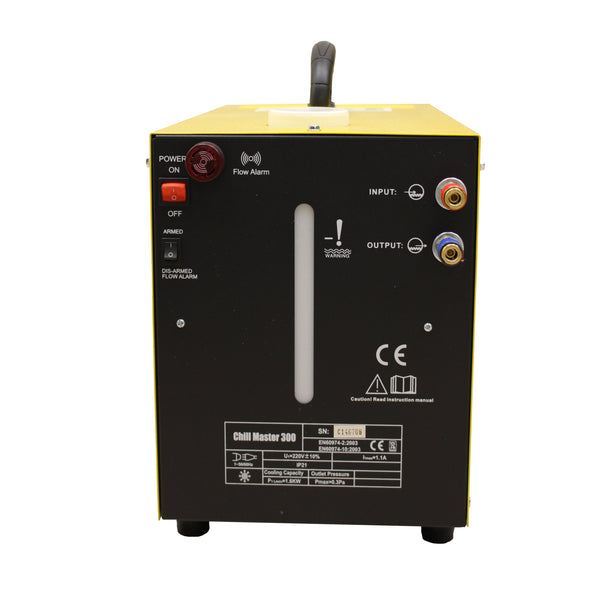 Description:
Our new 240V water cooler is designed to work with our latest generation of AHP TIG Welders to provide maximum cooling capacity.  This includes the AlphaTIG 203Xi, and Alpha TIG 225Xi.  
The unit uses a special plug, designed to be used with the rear receptacle on the AlphaTIG 203Xi and 225Xi models.  
This unit is equipped with a audio/visual flow alarm.  The flow alarm can be turned on or off depending upon the requirement.  
The Single shaft design means the fan and the pump are direct driven by a sealed industrial motor. The cooler is also equipped with a copper cored radiator for long life and better cooling.
The unit is equipped with color coded Quick connect couplings for water lines that are designed to be used with the torches supplied by AHP.  This greatly simplifies change over and reduces changeover time if a torch needs to be swapped.  Make sure to pair the Water Cooler with an AHP compatible Water Cooled TIG Torch with a 35-70 DINSE Connection or use similar adapters for aftermarket torches.  
Don't forget that the Chill Master 300 carries a 3 year parts and labor warranty.
IMPORTANT: Use only TIG rated coolant.  In addition the coolant should be designated as "low conductivity" or "safe for HF TIG use". Do not use automobile coolant or coolant rated for MIG or Plasma cutting only.  AHP currently does not supply coolant, however it is available at most welding supply stores in almost all areas.
NOTICE: This cooler is rated for 208-240V use only.  It is designed specifically for the new digitally controlled AlphaTIG series. Older models will not accept the cooler plug.
Specifications:
Rated Electrical Input: 220V +/- 10%
Rated Cooling Capacity: 1.6Kw
Input Amps: 1.1A
Input Voltage: 220V/240V
Input Frequency: 50/60Hz
Capacity: 2 gallons
Approximate Flow Rate: .95LPM through torch
Rated Amperage: 300A
Operating Pressure:  .3 Mpa (approx 47psi)
Audible Flow Alarm: Yes, with arming switch to turn off or on
Dimensions:
10 in × 14 in × 18 in