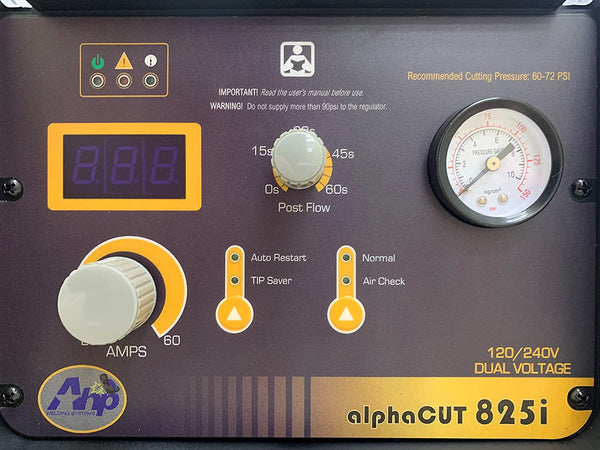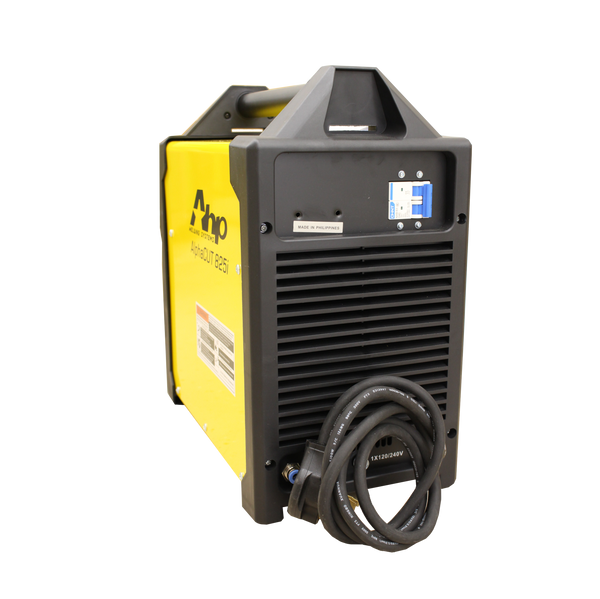 Description
The  all new AHP Alpha Cut 825i features an all new IGBT inverter design platform built specifically for fabricators that need a plasma cutter often, but don't want to pay thousands of dollars to get into the plasma cutting business. The Alpha Cut 825i is also perfect for those businesses looking to expand, while keeping costs low.  Whether you are already an established business, a new startup, or the weekend warrior, the Alpha Cut 825i offers you plenty of cutting power with 60A output.  This is enough to routinely cut 5/8" thick steel on a daily basis.  When asked to, the AHP cutter can knock out relatively clean cuts up to 7/8" and a maximum cut capability of over 1" thick.
The Innotec iPT 60 torch has become a standard used by many plasma cutter manufacturers and is selected for its durability and for the fact that consumables are easy to find and reasonably priced.  The blow-back design and pilot arc function are a step above the average low cost cutter.  This design eliminates the use and need for High Frequency  found in many cheaper plasma cutters which can interfere with and even destroy nearby electronics and lighting. The torch consumables demonstrate excellent lifespan in testing.  In field use, our customers also report great durability of the torch consumables and components. But because AHP knows that life and work is not always perfect, AHP has kept consumable cost among the most reasonable and lowest cost in the industry, just 10% to 50% of the price of some of our competitors.  This makes it an easier choice to put your investment into the hands of an inexperienced user. 
The unit, even though it is rated for 60 amps output on 240V, features a dual voltage design, which will allow the unit to operate at 120V power with the supplied adapter, at a reduced maximum output. This ensures maximum portability and usefulness, even though maximum cutting thickness and amp output will be restricted.  Keep in mind that to cut at lower amperages, you will need to purchase the consumable rated for that cut amperage. (The unit is supplied with 60A consumables.) So don't forget to add that to your purchase list, especially if you plan on cutting on 120V.
The genuine Italian-designed Innotec iPT 60 torch coupled with the AHP 825i's all new digital design favors the use of lower CFM air compressors compared to competitor models.  The pilot arc design allows the pilot arc to automatically restart after the cut is lost. The adjustable post flow also allows the operator to optimize consumable life and productivity.  When comparing to other brands, don't be fooled by some other brands that also feature so called iPT 60 torches. If they aren't Innotec, they aren't a true iPT 60. These are often cheap copies of the original Italian PT and iPT design, often not even functioning the same internally.  While they may look the same on the outside, they are definitely not the same when you see them stripped down. Watch out for imposter torches that don't deliver the same quality.
This unit's pilot arc function additionally features a tip saving function, and an continuously restarting pilot arc function which allows you to cut expanded metal, or extremely rusted/dirty material without having to retrigger the torch.
Specifications
Operating Input Voltage: 120/240V 1 phase 50/60 Hz
Maximum Input Amps (I1MAX):  120V: 36A  /  240V: 41A
Effective Rated Amps (I1EFF):   120V: 22A  /  240V:  25A
OCV: 300V
120V Output Range: 20-30A/ 88-92V
240V Output Range: 20-60A/ 88-104V
120V Duty Cycle Rating:  35% @ 30A/92V;  60% @ 25A/90V;  100% @ 20A/88V
240V Duty Cycle Rating: 35% @ 60A/104V; 60% @ 50A/100V; 100% @ 40A/104V
Post Flow: Adjustable up to 60 seconds for maximum consumable/torch life
Start Type: Blow-back with pilot arc function (Tip saver and auto restart)
Torch: Genuine Innotec iPT 60 13 ft. (Blow back design with pilot arc)
Input Cable:  6.5ft with NEMA 6-50 plug (standard welder/cutter 240V plug)
Includes: iPT 60 torch, Air pressure Regulator/water trap, work clamp and cable (9 ft), spare 60A consumable kit.
Stock consumable size: 1.1mm (50-60A)
Optional consumable sizes: .6mm (20-25A), .8mm (25-30A), .9mm (30-40A), 1.0mm (40-50A), 1.1mm (50-60A)
Minimum Compressor Requirement: 4.5 to 5 cfm @ 90 PSI; 25 gallon 
Other requirement: The air MUST be dry for best consumable life and minimal operational problems. An Air dryer must be mounted inline between plasma cutter and compressor.  (The supplied regulator/water trap is not mean to be used as a primary dryer. It is designed to be a final stage catch for moisture created during coupling and uncoupling).
Suggested daily cut: up to 5/8"

Maximum clean cut: up to 7/8"
Maximum sever: 1"+
Warranty: 3 Years Parts and Labor
NOTICE: Not for CNC or automated applications.
Literature
Download: Manual
Download: Brochure