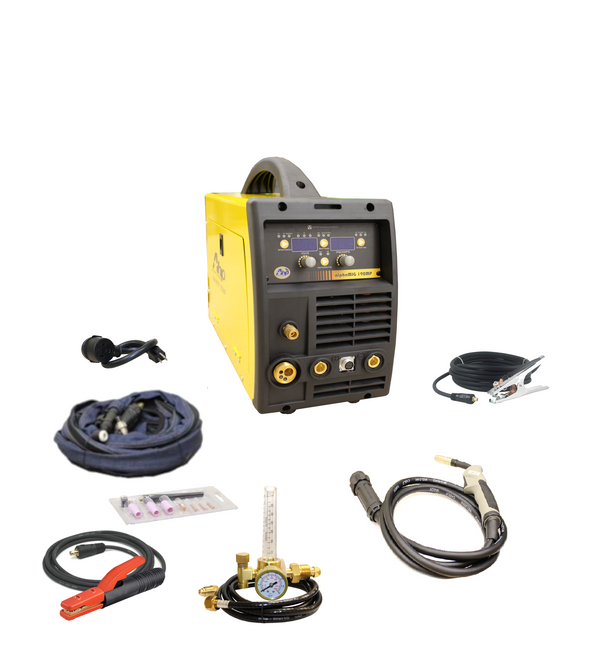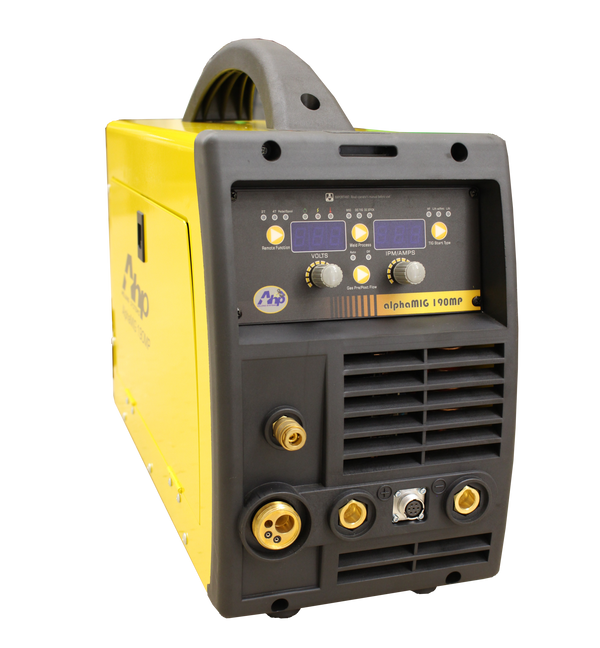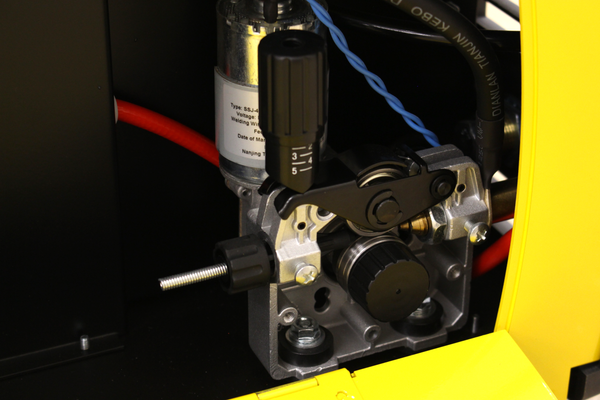 Description
The AlphaMIG 190mp is a new multi-process unit from AHP.  Designed with the small fabricator and DIY guy in mind, the combination of DC MIG, DC TIG, and DC Stick functions make this a perfect choice for anyone needing portability or wanting to conserve space.  Underscoring the portability factor, this unit is dual voltage, and can be used on 120V or 240V (120V adapter is included).  Keep in mind though, 240V gives you the most output.  120V output is considerably lower but it is still serviceable for lighter materials. The simple controls make the unit easy for anyone to understand and setup. 
The unit doesn't just offer a MIG package with optional "add-ons" later.  Rather it comes with most everything including TIG and Stick torches you'll need to get started. Of course, you'll still need your filler metals, tungsten, and gas. 
With up to 200A of MIG output, this takes you easily into the 1/4"-3/8" range of capacity (multi-pass). The MIG function delivers, smooth, crisp welds without having to have a lot of extra knowledge to setup with just basic Volt and Wire Feed Speed adjustments. Dual LED displays and stepless adjustment allow you to precisely set your values, without guessing or having to jump huge ranges between settings.
The DC TIG function of the welder allows you to weld  all metals except Aluminum and Magnesium. Compared to other MIG/TIG/ Stick competitors in the industry, the AlphaMIG 191mp offers High Frequency (touchless) arc starting, as well as lift arc starting, while others offer just lift start or an inferior "scratch start" add-on kit.  Additionally, the TIG function features offers built in solenoid for TIG gas flow control, eliminating the need for a gas valve torch or "TIG Rig".  At the maximum180A output for DC TIG, there isn't much you can't tackle with almost all metals (except Aluminum and Magnesium).
The DC Stick function operates common fabrication rods like E7014, E6013, and E7018.  It delivers smooth, quiet welds with minimal amounts of spatter and noise. The arc is stable, making it a joy to weld up those long-tabled projects you've been meaning to get to. With a maximum of 160A DC Stick output, you'll be able to weld with any 1/8" and some 5/32" welding rods.
Specifications:
Gas Inlet Qty: 2 (Separate MIG and TIG Gas inlets)
Input Voltage: 120/240V 50/60Hz
OCV: 70V
120V Inrush (I1max): 28.7A
240V Inrush (I1max): 28A
120V Rated (I1eff): 15A
240V Rated (I1 eff): 15A
MIG:
Spool Gun Compatible (Optional purchase)
Output Range 120V: 30-120A/15.5V- 20V
Duty Cycle Rating 120V: 25% @ 120A/20.0V (Rated @ 40° C)
Output Range 240V: 30-200A/15.5V-24V
Duty Cycle Rating 240V: 25% @ 180A/23V (Rated @ 40°C)
DC TIG:

Start Type: HF, Lift with remote, Lift
Output Range 120V: 10A-125A/10.4V-15V
Duty Cycle Rating 120V: 25% @ 125A/15V (Rated @ 40°C)
Output Range 240V: 10-180A/10.5-17.2V
Duty Cycle Rating 240V: 25% @ 180A/17.2V (Rated @ 40°C)
DC Stick:
Output Range 120V: 20A-100A/20.8V-24V
Duty Cycle Rating 120V: 25% @ 100A/24V (Rated @ 40°C)
Output Range 240V: 20-160A/20.8V-26.4V
Duty Cycle Rating 120V: 25% @ 160A/26.4V
What's In The Box:

15 Series MIG torch 2m length
26 Series TIG torch 4m length
250A Stick electrode Holder with 2m cable
200A Work Clamp with 2m cable
Qty. 1 MIG/TIG Ar/ArCO2 gas regulator
TIG Starter Kit of Consumables (Tungsten not included)
Minimum/Maximum Capability:
Notice: Minimum/Maximum figures are based on industry "best practices" for single pass welds. Maximum multi-pass rating is based of practical maximum limit figuring duty cycle and standard practices.
MIG: 
Minimum: 24 Gauge
Maximum 120V: 1/8"
Maximum 240V: 3/16"
Maximum Multi-Pass: 3/8"
TIG:
Minimum: 28 Gauge
Maximum 120V: 1/8"
Maximum 240V: 3/16"
Maximum Multi-pass: 3/8"
Stick: 
120V: 1/16" to 3/32" electrode
240V: 1/16" to 1/8" electrode
Features:
DC MIG, DC TIG, DC Stick
Separate MIG and TIG gas inlets
TIG Kit included (Foot pedal optional)
Auto Pre/Post Flow 
HF TIG Start
Lift with Remote TIG Start
Lift TIG Start
Foot Pedal Capable (Pedal is Optional)
Spool Gun Capable (Spool Gun is Optional)
Options
Spool Gun
Foot Pedal
Assorted TIG Torch Options/Lengths
Consumables
Literature

 Download: Manual
Download: Brochure 
Additional Information
This unit may be used with any 7000W clean power generator rated at 5% or less Total Harmonic Distortion (THD).  Use with under powered generators, or generators over 5% THD will void the warranty.   
TIG Foot Pedal and Spool Guns are optional. They may be purchased separately.
https://cdn.shopify.com/s/files/1/0553/0366/7894/files/alphamig_190mp.pdf?v=1679022479
https://cdn.shopify.com/s/files/1/0553/0366/7894/files/alphamig_190mp.pdf?v=1679022479